The "I Read His Autobiography" Quiz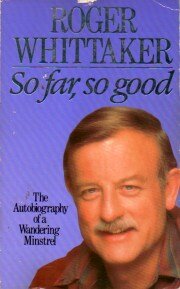 Questions prepared by Rhonda Kolskog & J. Waggoner

(If you're here for help with capstone project, the questions below can be useful for you.)

1. What is the Title of Roger Whittaker's Biography?

2. With whom did Roger collaborate with in writing this book?

3. What is Roger's favorite kind of candy?

4. Who gave Roger his first guitar?

5. What year and for what reason did Roger's parents leave England?

6. What clause did Roger have written into his later club contracts?

7. What is the name of Roger Whittaker's Airplane?

8. .How many entries were submitted to Roger after he asked listeners to send their lyrics and poems to him?

9. Who wrote the lyrics to "The Last Farewell?"

10.What does Tembo mean in Swahili?

11. How did Roger injure his back?

12. What are African Nannys called?

13. What was Rogers' first language?

14. What serious disease did Roger have as a young boy?

15.What precious instrument of his fathers did Roger break and what was his punishment?

16. What is Roger's favorite animal in all of Africa?